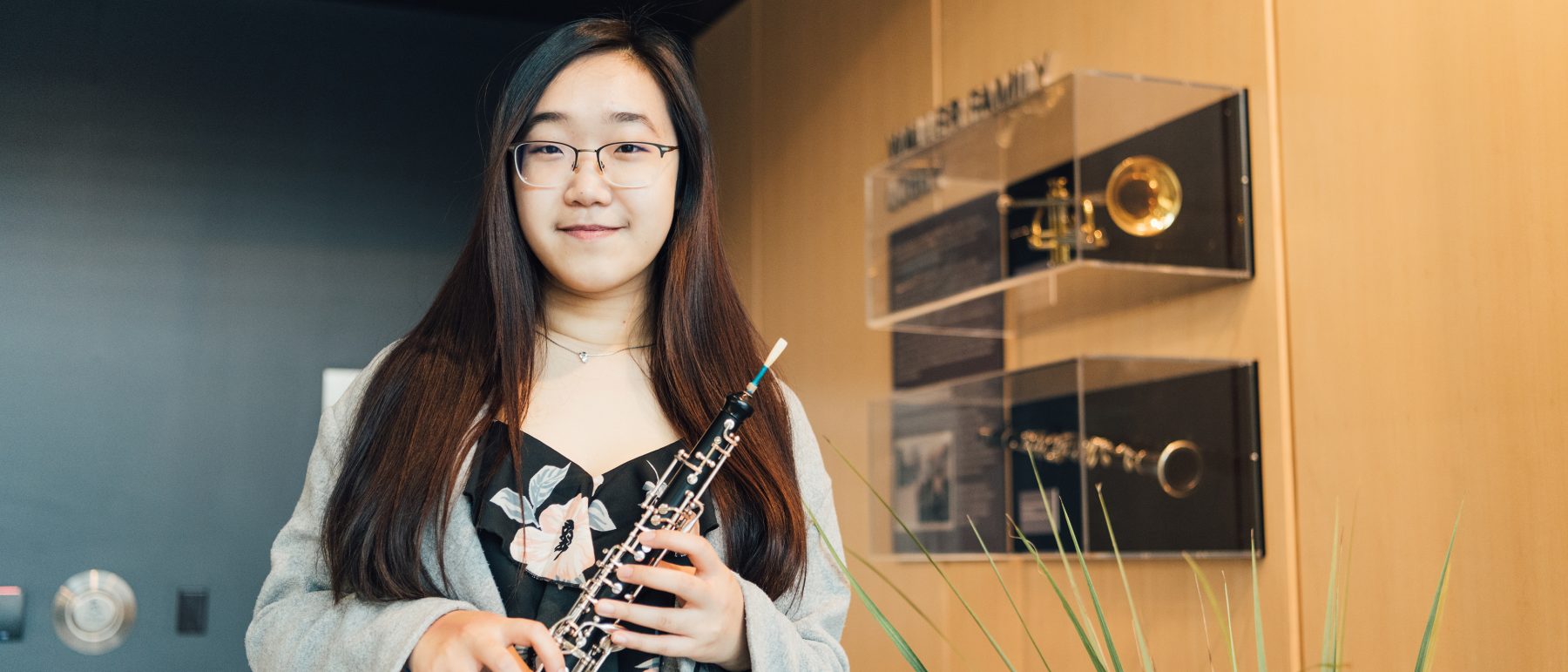 The Music program gives students a thorough grounding in the four fundamental areas of music instruction – theory, general musicianship, history and performance, and allows students who are interested in teaching careers to specialize in Music Education, while those interested in academic studies and graduate school may emphasize such topics as Music History and Music Theory.
Students may also choose our ground-breaking new specialization in Music Cognition, which explores exciting new research into how music is perceived in the brain and how music intersects with other aspects of intellectual development.
It's also possible to combine the study of music with another subject from Humanities or Social Sciences.
With a ratio of approximately one professor to every 15 students and private lessons in the student's principal instrument or voice, the Music program offers an exceptional level of faculty contact within the conventional classroom.
Experiential Learning
Our program also emphasizes learning outside the classroom. There are several ways in which music students at McMaster are exposed to a wide range of world-class artists. These include free lunchtime concerts and the Celebrity Concert Series (to which Music students receive free admission). The series brings top calibre international musicians to McMaster, whose musical styles range from the standard repertoire to recent music, jazz, early music and world music.
---
Auditions
---
To enter Music I, students must meet the Humanities admission requirements and pass an audition consisting of a performance (the minimum level required for both equates to Royal Conservatory of Music Honours Grade 8), a theory test (equivalent to RCM Advanced Rudiments), as well as an ear-training test. Most auditions take place between February and April. For more information, please visit the Humanities website.
While co-op and internships are not currently offered for the Music program, there are many performance opportunities available.
Performance Opportunities
All Music programs at McMaster involve performance, both solo and ensemble. There are many opportunities to perform in public, such as the Student Concert Series for soloists and chamber groups. All students receive private lessons in their principal instrument or voice, and must also participate in one of the seven important ensembles sponsored by the School of the Arts:
David Gerry Flute Ensemble
McMaster Chamber Orchestra
McMaster Concert Band
McMaster Jazz Band
McMaster Percussion Ensemble
McMaster University Choir
McMaster Cantemus Vocal Ensemble
Admission to these ensembles is by audition and is open to music and non-music students.
Students studying music have access to:
large rehearsal rooms
practice rooms
seminar rooms, several equipped with two grand pianos
multimedia classrooms
a multimedia classrooms large instrument collection, including string, wind, brass and percussion instruments
Mills Memorial Library's extensive music section
Music Cognition Laboratory
an on-campus concert hall with a world-class Steinway piano
https://future.mcmaster.ca/programs/music/