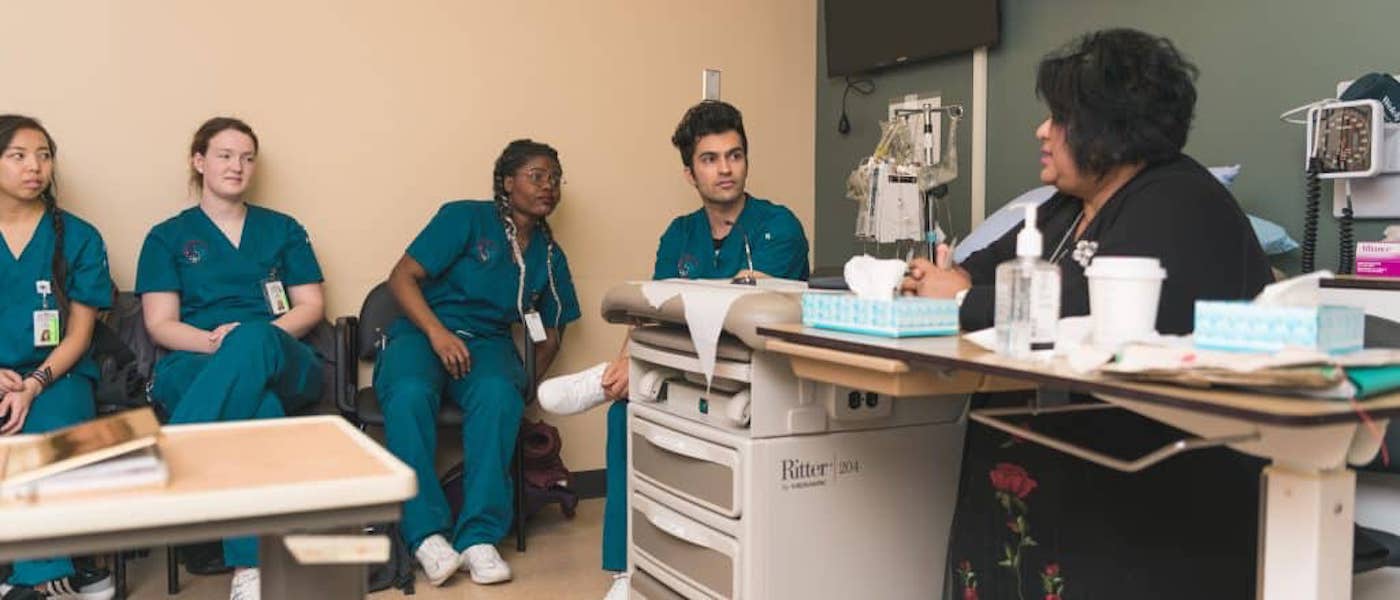 Medical Radiation Sciences
The Medical Radiation Sciences (MRSc) program is delivered through a partnership between Mohawk College and McMaster University. Both institutions are acknowledged leaders in health sciences education in Ontario, with a record of success in program collaboration and pedagogical innovation.
MRSc program graduates are healthcare professionals who employ different kinds of radiation in diagnostic and therapy and are part of one of the fastest growing health care fields. Students in this program pursue two concurrent qualifications: an Ontario College Advanced Diploma in Medical Radiation Sciences from Mohawk College and the McMaster University Bachelor of Medical Radiation Sciences degree. The model was designed to enable students to simultaneously achieve two academic credentials.
MRSc involves the use of ionizing and non-ionizing radiation for diagnostic studies and the treatment of patients. Ionizing radiation includes x-rays and gamma rays; non-ionizing radiation includes magnetic fields and ultrasound. The collaboration between McMaster University and Mohawk College of Applied Arts and Technology gives students in the Medical Radiation Sciences program the best of both worlds.
The curriculum and program structure support a solid foundation of general sciences knowledge. The MRSc program model integrates clinical and academic education across professional specializations. They are aligned with the competency profiles of the professions. The program promotes skills that prepare the students for lifelong self-directed learning that helps them become essential players in the health care community.
HIGHLIGHTS OF THE BACHELOR OF MEDICAL RADIATION SCIENCES PROGRAMS:
Common Level I program
Three areas of specialization to choose from after Level I (Radiation Therapy, Radiography, Ultrasonography)
Four year (10 semester) integrated curriculum linking theory and clinical education
Limited enrolment program allows for small class sizes
Practice of pre-clinical skills in simulated skills labs
Access to extensive medical imaging facilities, including enhanced radiography,
computerized tomography and ultrasound
Inter-professional courses combining students in all MRSc Specializations
Three terms of clinical education allow for valuable hands-on experience
Graduates are eligible to write professional certification exams
---
Clinical Education
The practical experience gained in medical imaging labs prepare students for their clinical placements. Over the length of the four-year program, students continue to develop skills for clinical practice through three terms of experiential learning in various clinical environments. Clinical practice may be completed though clinical agencies located throughout Ontario. The Program will determine allocation of students to these clinical facilities.
The clinical placements provide a breadth of experience in procedures and modalities and reflect the range of opportunities for employment. Initially, students are observing and performing tasks under the direct supervision of clinical staff and later progress to working independently, with minimal supervision and support, to produce accurate and timely studies. Students' performance is assessed throughout their clinical practice.
The Mohawk-McMaster Institute for Applied Health Sciences offers students in each specialization opportunities to develop clinical skills in some of the largest and technically current simulated clinical laboratories, through recent multi-million dollar upgrades to the labs. Features include:
Medical Imaging Laboratories
A mammography unit
A multi-slice computed tomography (CT) scanner
A simulated ultrasound scanning system
Connectivity to digital imaging networks
Five general radiography units with computed radiography (CR) capabilities
Five state-of-the-art ultrasound units
One direct-read (DR) digital radiography unit
Image Viewing and Manipulation Laboratory
Database of teaching files of medical images
Two Picture Archiving and Communication Systems (PACS)
Patient Care and Nursing Skills Laboratory
Anatomical models
Computerized patient mannequins
Simulated hospital ward environment
---
Your Classes
---
Good planning is important! Review the admission requirements for each of the Faculty of Science programs you are considering. Visit mapsci.ca to start planning your academic journey. 
What you'll take:
MEDRADSC

 1B03 – Introduction to Pathology

 

MEDRADSC

 1E03 – Inquiry in Medical Radiation Sciences

 

MEDRADSC

 1F03 – Professions in Medical Radiation Sciences

 

LIFESCI

 1D03 – Medical Imaging Physics

 

MATH 1LS3 – Calculus for the Life Sciences I

 

 

BIOLOGY 1A03 – Cellular and Molecular Biology

 

KINESIOL

 1Y03 – Human Anatomy and Physiology I

 

KINESIOL

 1YY3 – Human Anatomy and Physiology II

 

6 units of electives

 
Medical Radiation Sciences (MRSc) students are introduced to three specializations in Level I. Following Level I, students apply to one of the following specializations:
Radiography
Radiation Therapy
Ultrasonography
Level II-IV
The academic semesters enable the application of fundamental theoretical principles to the technologies of medical radiation science.
A broad range of discipline-related and general subject areas are explored in depth. The principles of medical ethics and research methodologies are used to analyze and evaluate technological advances and professional practices in medical radiation science.
Clinical practicum provides opportunities to integrate theoretical knowledge, technical, and professional skills. This encourages the development of increasing competence and independence, leading to the:
Achievement of the professional competence required of an entry-level practitioner
Ability to plan and manage future professional development and lifelong learning