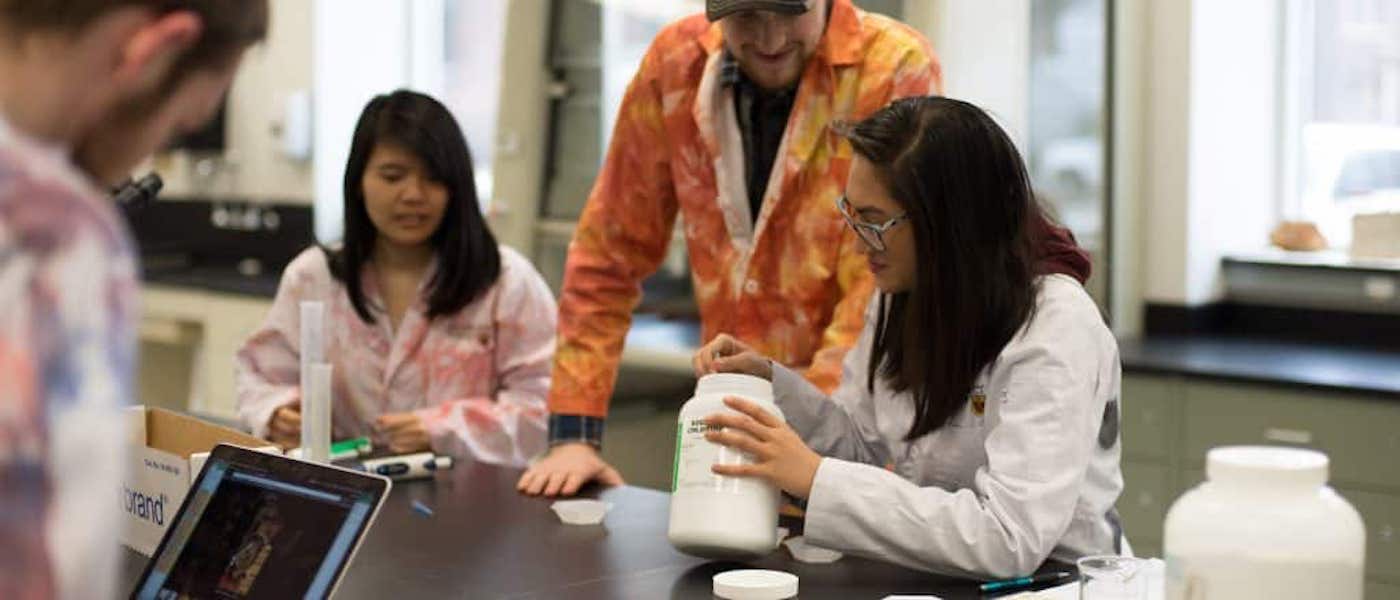 Honours Integrated Science
The Honours Integrated Science (iSci) program is the country's most innovative undergraduate science program, blending content from across the science disciplines, while focusing on the foundations of chemistry, earth science, life science, mathematics and physics.
Our students learn in a variety of situations – from formal lectures and tutorials to inquiry-based team and individual research projects that involve hands-on laboratories and fieldwork. Integrated Science students learn to ask creative and critical questions using a wide range of tools. Most importantly they are prepared to tackle real-world challenges that face us today and in the future.
Honours Integrated Science (iSci) puts into practice innovative concepts linking science education and leading research topics, demonstrating a holistic view of science through the interaction of various science disciplines.
In addition to learning broad fundamentals, iSci also provides students the opportunity to specialize in a selected discipline including: Chemistry, Chemical Biology, Biology, Mathematics, Physics, Biochemistry, Medical and Biological Physics, Earth and Environmental Science, Environmental Science, and Psychology, Neuroscience and Behaviour; allowing students the opportunity to contribute to a specialist field with a wide range of knowledge.
The iSci program will prepare students for post-graduate work through the application of inquiry and problem-based learning within the classroom, the provision of many practical laboratory and field experiences, and the development of essential scientific communication skills.
What makes iSci unique?
Integration of research and education spanning all disciplines of science
Hands-on learning alongside leading researchers in state-of-the-art facilities
Problem-based learning in small class settings
Limited enrolment program designed for highly motivated, high-achieving students
Taught by interdisciplinary teams of faculty applying innovative approaches to teaching and learning
Opportunities to work closely with faculty members on research projects in laboratory and field settings
Research collaborations and internships with government, industrial, and community partners
Integrated scientific literacy component in which students learn and develop scientific writing and
presentation skills, ethical approaches to research, and the effective use of library and internet resources
Integrated learning of science allows students to understand how knowledge has accumulated within and
across scientific disciplines, and how new scientific thought is created and communicated
While co-op and internship opportunities are not available for the Integrated Science program at this time, there are a variety of experiential education opportunities ingrained into the foundation of the program.
Experiential Education (EE) provides opportunities for students to gain academically relevant experience in a community, research or professional setting. This combination of academic and real world learning helps students to further develop the necessary qualities and skills that will be transferrable to future career paths. EE courses could be either an Applied Placement Course (SCIENCE 3EP3) or a Research Practicum Course (SCIENCE 3RP3).
Information about Experiential Education opportunities are available via the Science Career & Cooperative Education website.
iSci is based out of the third floor of Thode Library, housing:
Administrative offices for iSci faculty and staff, ensuring easy and open communication between professors, administrators, and students
The iStudy, a dedicated study space for registered iSci students
The ThInK Space (Thode Interactive Knowledge Space), a library teaching classroom featuring multi-media integration and assistive teaching technology
In addition to the third floor of Thode, iSci has dedicated undergraduate lab space. The iSci lab:
Has over 3000 square feet of redesigned lab space for students to learn and explore
Is the first university laboratory in Canada to utilize environmentally friendly neutrodine™-filtered ductless fume hoods
In year one alone, the iSci lab will be used for over 25 experiments, field labs, and workshops spanning the fields of biology, chemistry, physics, and Earth science so that students can develop their hands-on skills.
The Integrated Science (iSci) lab is the central location for lab-based experiences offered in the iSci program. This multidisciplinary space is available to all iSci undergraduate students but is primarily used by first and second year students. Experiments in physics, chemistry, biology, earth science, neuroscience, thermodynamics and other disciplines are delivered weekly. Students develop their hands-on, practical skills on a wide variety of equipment related to these disciplines