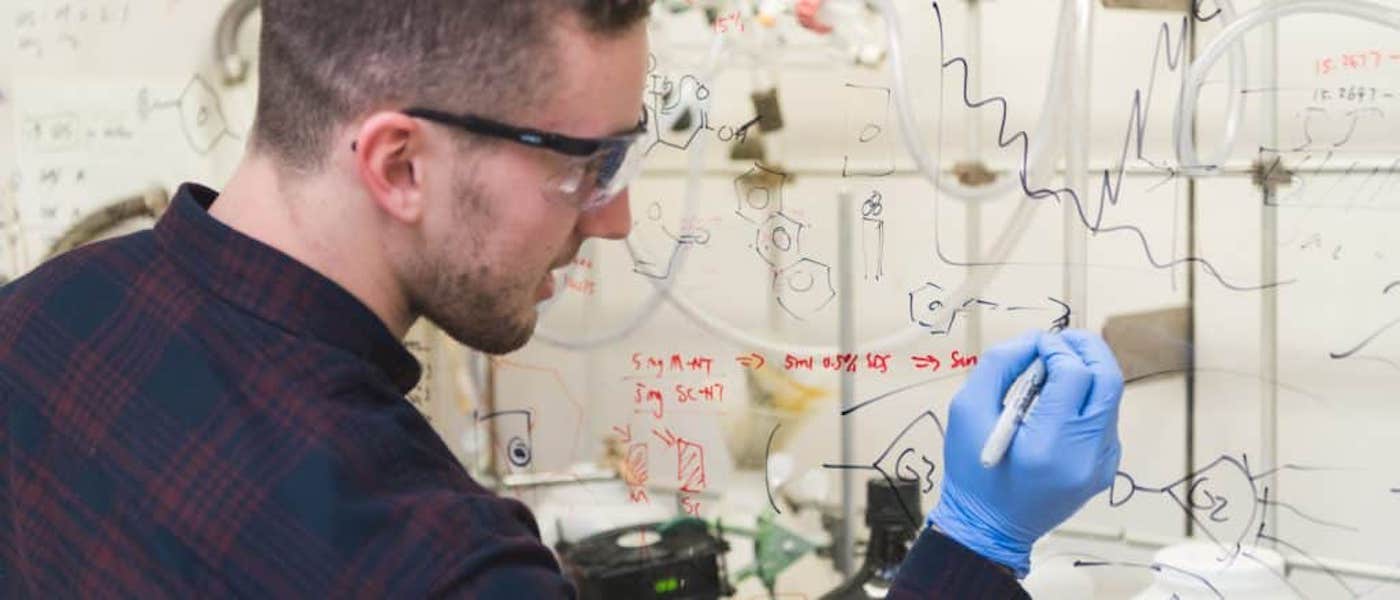 Chemical and Physical Sciences Gateway
Everything we know is either matter or energy. Understanding the ways in which matter and energy behave and interact is critical to an understanding of the universe at every level, from the submicroscopic constituents of matter to the macroscopic behaviour of galaxies and star clusters. This understanding comes through a mix of mathematical description, computational modelling and experimental investigations. These techniques are covered in Chemical & Physical Sciences I, which is the appropriate preparation for Level II programs in Astrophysics, Biophysics, Chemistry, Chemical Biology, Medical Physics, and Physics.
Whether you know exactly what area of science you are interested in or are still undecided (or change your mind after you arrive!), the structure of our Level I Chemical and Physical Sciences Gateway program will provide you with a range of Level II program options. Students in Chemical and Physical Sciences do not memorize facts or equations; they learn how to ask questions and answer them through problem solving.
While some students continue in a Level II program from the same area of study as their Level I program (for example, selecting Level II Honours Chemical Biology after completion of Chemical and Physical Sciences Gateway), others discover a new area of interest and change their original direction (for example, a Chemical and Physical Sciences Gateway student may choose to move into Honours Biology or Honours Mathematics and Statistics). Regardless of your path, at the end of first year you will rank order and apply to up to four Level II programs.
Chemical and Physical Sciences Gateway students experience exciting and engaging lectures. Both Chemistry and Physics focus on providing hands-on lab experience in state-of-the-art facilities, interactive classroom lectures as well as dynamic and exciting online content.
Co-op
The Science Career and Cooperative Education (SCCE) office has a variety of resources to help students research and explore co-operative, experiential education and career opportunities they can pursue during and following their degree. Our vision is to see every McMaster Science student reach their career potential and have a meaningful impact on the scientific community.
Cooperative Education is an integrated "hands-on" approach to higher education that enables highly motivated students to alternate academic terms with paid, relevant work experience.
Current Faculty of Science Co-Op programs, all of which begin at Level III:
• Actuarial and Financial Mathematics
• Biochemistry – Biomedical Research Specialization
• Chemical Biology
• Chemistry
• Earth and Environmental Sciences
• Environmental Sciences
• Life Sciences
• Mathematics and Statistics (including sub-plans)
• Medical and Biological Physics
• Molecular Biology and Genetics
• Physics
• Sustainable Chemistry
Experiential Education provides students with opportunity to gain real world, academically relevant experience in a community, research or professional setting. This combination of academic and applied learning helps students to further develop the necessary qualities and skills that will be transferable to future career paths. Students in the Faculty of Science can gain experience through Applied Placement courses, Research Practicum courses, or Undergraduate Science Internships.
Visit the Science Career and Cooperative Education (SCCE) website for more information.
Chemical and Physical Sciences Gateway students have an opportunity to participate in some of the following state-of-the-art labs and facilities throughout their undergraduate degree:
Cell Biology Laboratory
Chemistry & Chemical Biology Laboratory
Rock & Mineral Analysis Laboratory
Crystal Growth Laboratory
SharcNet
W.J. McCallion Planetarium
Brockhouse Institute for Materials Research
McMaster Nuclear Reactor
Combustion Analysis and Optical Spectroscopy (CAOS)
McMaster Regional Centre for Mass Spectrometry (MRCMS)
McMaster Analytical X-Ray Diffraction (MAX)
Nuclear Magnetic Resonance Facility
Explore some of these state-of-the-art labs and facilities used daily by undergraduate students
here
.
https://future.mcmaster.ca/programs/chemical-and-physical-sciences-gateway/