Join us for Month at Mac
Our virtual open house is happening now until Dec. 5. Click here to learn more, register and to connect with current students and faculty representatives.
Join Engineering for a Fireball Fieldtrip
Join Engineering for a Fireball Fieldtrip
13077
November, 04, 2020 09:30 AM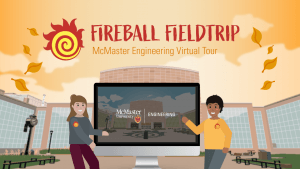 The Faculty of Engineering is inviting you to a special Fireball Fieldtrip. These events will let you learn about our world-class programs, clubs and teams, co-op, and more from our MacEng students who are so excited to welcome you virtually into the #FireballFamily.
What is the Fireball Fieldtrip? This is an engaging, one-hour, interactive session with our students and staff to give you that insider perspective on the life of a McMaster Engineering student.
Some of the amazing things that await you:
A "MacEng Journey" presentation that will walk you through your future experiences as a Faculty of Engineering student from welcome week to graduation
The opportunity to connect with current MacEng students from a variety of programs and with unique undergraduate experiences
Access to recruitment staff to answer all of your application and admission questions
This event is for future Faculty of Engineering undergraduate students interested in one of our four Level 1 programs:
This session will take place on our virtual platform Hopin and we will be following up with the registration link for our virtual platform 24 hours prior to the event in an email from McMaster University. Email us at thinkeng@mcmaster.ca if you have any questions!
Want to sign up? Head over to the Fireball Fieldtrip page to see the schedule and save your seat.
Channels